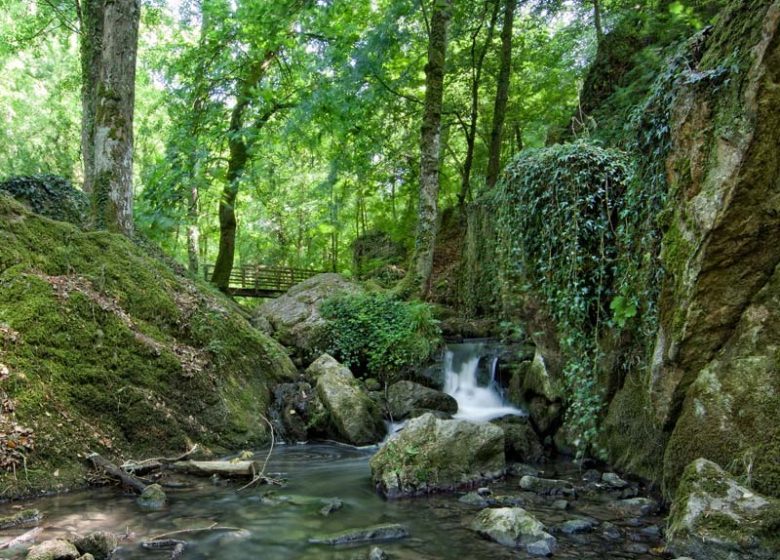 La Brèche au Diable: A unique natural site in Normandy!
The legend attributes to the devil himself the paternity of this grandiose natural site. Indeed, Saint-Quentin having retired here to live his life as a hermit, he wanted to come to the aid of the population still subject to the vagaries of the Laizon river. To open a passage to the waters of the stream, he made a pact with the devil. If this one, after having opened a breach in the rock, managed to overcome a test, then he would be master of his soul. The good hermit then asked the devil to wash a fleece in the stream, but it was a goat's fleece and the devil could not give him the whiteness of a lamb. This allowed Saint-Quentin to save his soul without breaking his word.


The tomb of Marie-Joly: illustrious actress of French comedy!
Born in Versailles on April 8, 1761, Marie-Elisabeth Joly was the daughter of a costume designer who played
incidentally in comedies, with his wife. She therefore had no difficulty adapting to the world of boards. At the age of 7, she was already playing "Louison" in Le Malade Imaginaire. The spectators, who already saw in her a great actress, acclaimed her every evening and people were already talking about the finesse of her interpretation, her playfulness and her keen intelligence.
She had many suitors, but found a more fervent one in Caen, whom she married: Mr. Nicolas Fouquet Dulomboy, Captain of Cavalry, Knight of the Order of Malta of Saint-Louis, Mayor of the town of Tassily- Saint-Quentin, and owner of the manor of Poussendre, commune of Tassily.