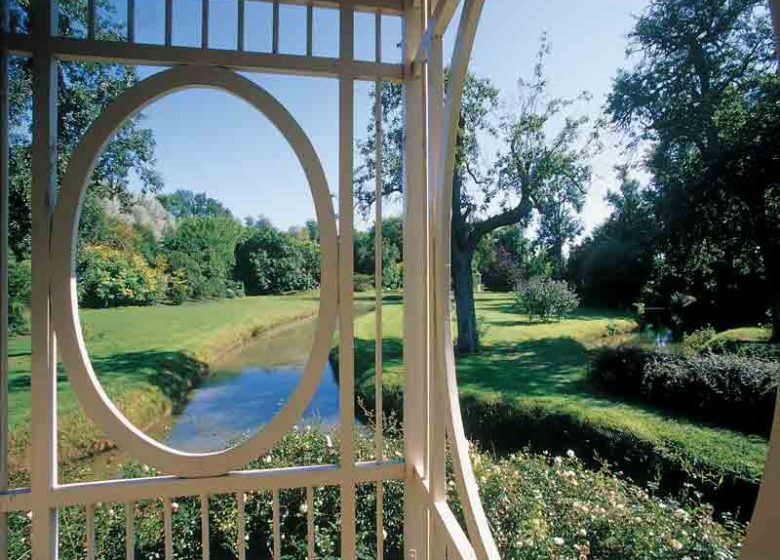 In an immense park, 3 gardens follow one another: a French garden, a utility garden and in the middle of luxuriant vegetation the "surprise" water gardens, hidden among the groves and fancy constructions (temple, kiosk, waterfall, labyrinth…). Seashell grotto. The French gardens, created in the middle of the 18th century, accompanying the construction of the castle, were transformed into a landscaped park in the 19th century.

The park was restored from 1970. Guy de Vendeuvre was inspired by 18th century plans, simplifying them and completing them with creations on the theme of water and topiary. Topiary at the front, the garden has a suspended water mirror at the back, bordered by linden arbors. From the terrace overlooking boxwood beds, fountains and water jets, you can see beyond the meadows of the Dives valley, the hills of the Pays d'Auge.

In the gardens of Vendeuvre, near the Grotto, you will discover two labyrinths: a regular labyrinth and an irregular labyrinth also called the labyrinth of the fields, where a little rabbit is hiding there. Bordering the paths, citrus fruits arranged in pots are spaced out by fig trees in espalier along the walls. As you approach the waterfall, you will spot a collection of succulents and papyrus. Near the greenhouse and along the house grow jasmines with intense scents. on the mound, in the shade, southern ferns, melanthes, grasses and bamboos are sheltered from the prevailing winds. Banana trees, palm trees and yuccas complete this immersion in exoticism.

Perpendicular to the cooler, an alley leads between two labyrinths of boxwood to the "pleasure garden" devoted to water in all its forms: Islands, waterfalls, streams, are surrounded by hundred-year-old trees coexisting with a young arboretum.

Opportunity to visit the castle and the museum of miniature furniture. Duration of the free visit: 1h30.
Opening
From 01 April to 31 October
Monday
Open from 14 a.m. to 18 p.m.
Tuesday
Open from 14 a.m. to 18 p.m.
Wednesday
Open from 14 a.m. to 18 p.m.
Thursday
Open from 14 a.m. to 18 p.m.
Friday
Open from 14 a.m. to 18 p.m.
SATURDAY
Open from 14 a.m. to 18 p.m.
Sunday
Open from 14 a.m. to 18 p.m.
Pricing
Type
Price
Base rate - Full rate adult

depending on the visit

10 € - 13,50 €
Child rate

depending on the visit

8 € - 11 €
Annual pass
27 €
Basic price - Full price adult: from €10.00 to €13.50
Child rate: from 8.00 € to 11.00 €
Annual pass: €27.00
Payment method
Credit card
Payment cards
French bank and postal checks
French "Chèques vacances"
Cash
Contactless payment
Visa