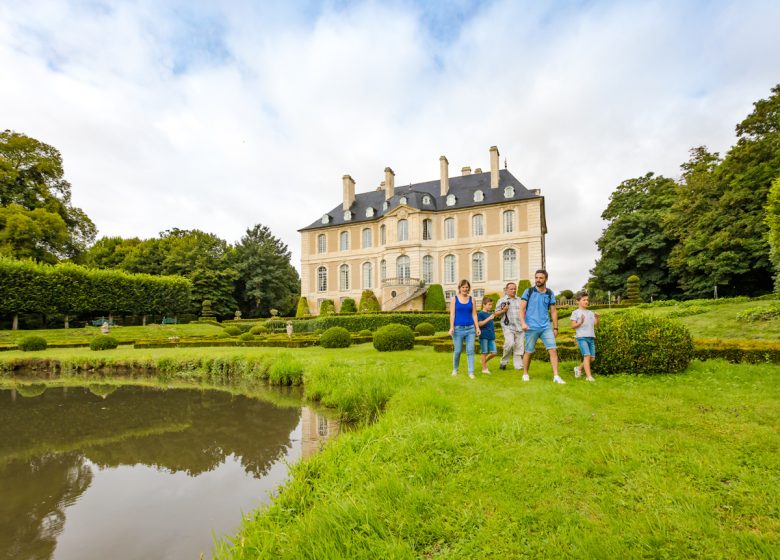 Closed
Contact Informations
Château de Vendeuvre
9 Castle Street
14170 VENDEUVRE
Vendeuvre, XNUMXth century jewel of Normandy
The Orangerie houses the world's first collection of miniature furniture: models, models, masterpieces, ivories, and miniature silverware. This reduced-scale panorama includes more than 800 small pieces of furniture and thousands of miniature objects. The Château has retained its original furniture and decoration. Discover an authentic interior where family paintings rub shoulders with games tables, dog houses and automatons. The family atmosphere, furniture and curios invite you to step back in time. In the Kitchens of the Château, more than 500 coppers are to be admired as well as the many secrets that chef Maurice reveals to you. In the gardens, beyond the pyramid-shaped cooler, let yourself be surprised by "the surprise water gardens", where water gushes out from all sides: Chinese bridge, Muses' lounge, crystal tree, turtle waterfall and cave of 200 shells.
Exhibition 2020: At the table in the 1th century. Duration of the free visit: 30h2/XNUMXh.
Boutique - Refreshments - Picnic area in the park - Dogs allowed on a leash in the gardens.
Visit
Visit languages
French
English
German
Spanish
Italy
néerlandais
Opening
From 02 October to 31 October
Sunday
Open from 14 a.m. to 18 p.m.
From April 01 to November 05
Monday
Open
Tuesday
Open
Wednesday
Open
Thursday
Open
Friday
Open
Saturday
Open
Sunday
Open
Prices
Type
Price
Base rate - Full rate adult

consult the website

13,50 €
Child rate
11 €
Base rate - Full rate adult: € 13.50
Child rate: € 11.00
Payment method
Payment cards
French "Chèques vacances"
Cash
Visa