In the Falaise – Suisse Normande destination, Normandy is told and discovered differently. Venture off the beaten track and discover our unsuspected nuggets that will transport you to other times and other places...
Authentically Norman stories and heritage
Follow the paths of our towns and villages, through the countryside. For us, stone and men are so many open books on Norman history. It's another Normandy they tell you about. From Neolithic polishers to Reconstruction concrete, 5 years of history await you!
Around the medieval city of Falaise, the Middle Ages also resonate in the corbels and arches of our many churches and abbeys. Wherever you look, William the Conqueror and his descendants are never far away.
The magnificence of the Age of Enlightenment is expressed at leisure in our countryside, through the beautiful residences of modern times. Especially in the colorful gardens of the domain of Vendeuvre, a veritable little Norman Versailles, whose spirit has been carefully preserved by the same family for almost three centuries.
Even more surprising, let yourself be told about the industrial revolution by the brick of the factories which bordered the Orne. Their colors are strangely reminiscent of the "Gueules Rouges", convicts from the square of Soumont-Saint-Quentin, ordinary heroes of the mining epic of Normandy.
Finally, at the dawn of our XNUMXst century, it is World War II and Reconstruction, that of homes and families, which will forever mark our landscapes and people.
An immersion in astonishing universes: visit Paris at Falaise, exceptional gardens and contemporary works of art
Let your imagination run wild and embark on an unexpected journey! Window displays of Parisian department stores from the 50s automata museum to the fantastic legends surrounding the tomb of Marie Joly and the Devil's Breach, immerse yourself in mysterious and magical atmospheres.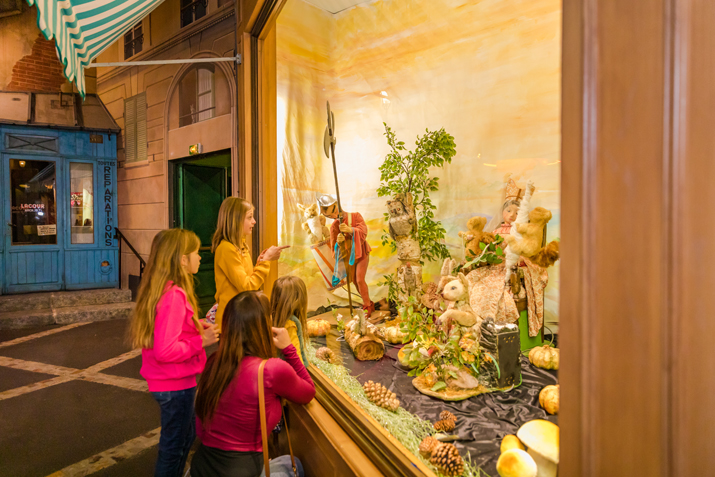 Those that pleased so many artists and inspired them with original works. The golden hues of the paintings of the impressionist from Falaise Andre Lemaitre tell the story of the Normandy countryside. One of a kind, the apple tree chapel, a masterpiece resulting from an improbable love at first sight between a contemporary Japanese artist Kyoji Takubo and a XNUMXth century Norman chapel. Or through "War is Hell", a major work by Jef Aérosol. The stencil street artist transformed a real Sherman tank into a tribute to the victims of all modern wars.