The SIT (Tourist Information System) is a database containing all the tourist offers in Calvados and their details. They are automatically published on websites, applications and other communication media.
what is tourinsoft used for?
Since 2009, the departmental tourism committee has joined forces with the Tourist Offices to set up the Tourist Information System (SIT). This database lists accommodation, activities and leisure, events and organizations related to tourist activities.
This data is collected using the "Tourinsoft" software package.
This regional database feeds the websites:
tourist offices,
of Calvados Attractiveness, Department of Tourism Committee,
Normandy Tourism, regional tourism committee.
Directly connected to territorial databases, the national "DATAtourisme" platform allows wider and simplified access to public tourist information data: TomTom, Voyages-sncf, IGN, France vélotourisme, etc.
In short: by supplying Tourinsoft once, you benefit from visibility on a multitude of partner sites at the local, departmental, regional or even national level!
The information collected via Tourinsoft feeds all our communication media (website, tourist guides, etc.).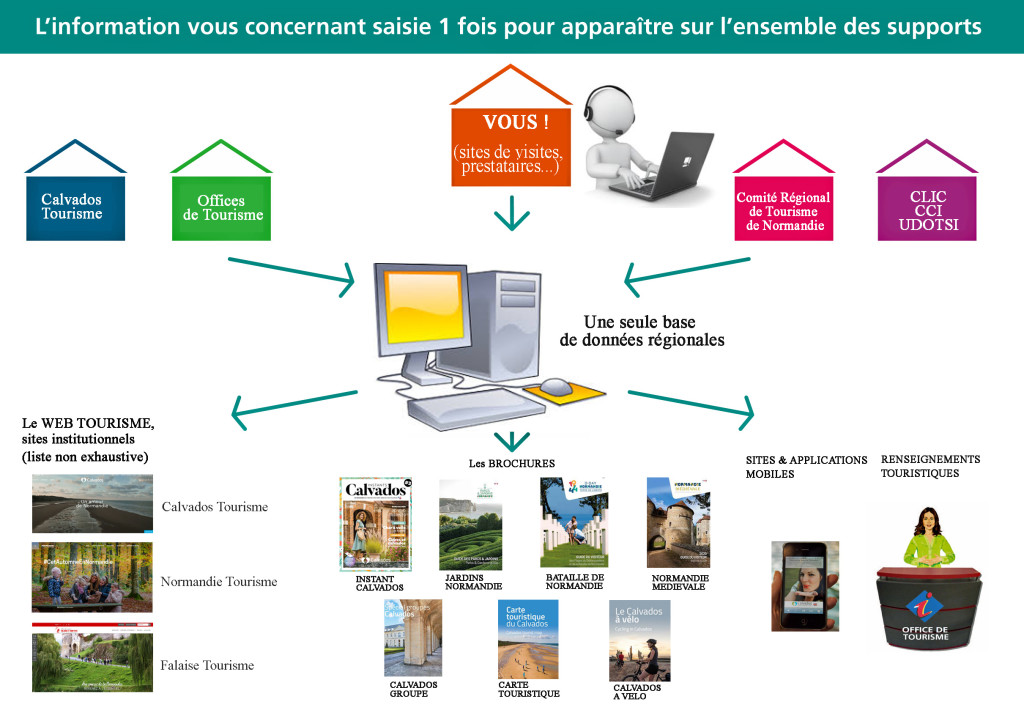 how it works ?
To feed this regional database, a space is dedicated to you: the VIT space (your tourist information). You then obtain a personal username and password, specially created for your structure.
This data is updated from September. You can modify your information at any time of the year: new timetables, new media, etc.
novelty:
Are you a host and are you updating your availability on a booking platform (airbnb, tripadvisor, booking, etc.)? It is now possible to synchronize your schedule on Tourinsoft, via your extranet, by simply generating an iCal url.
Questions ? Need help setting up your VIT space? Do not hesitate to contact us.