The end of year celebrations are approaching! The reddish decorations of autumn are gradually giving way to very green trees and Christmas lights. From November, towns, villages and merchants invite you to take part in the festive magic on the Christmas markets of the Falaise – Suisse Normande destination. Find below the appointments not to be missed.
1. Falaise: 100% magical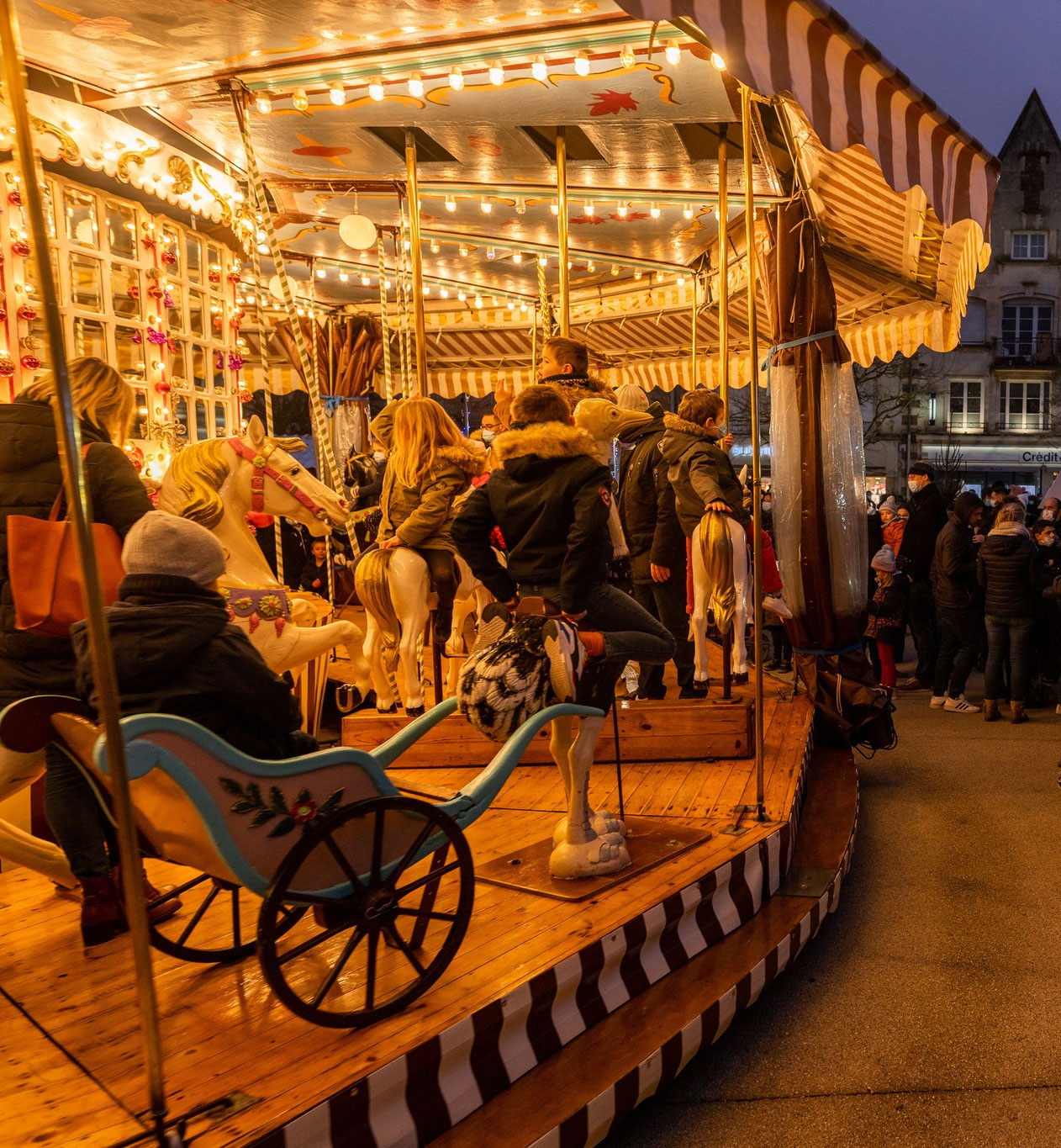 Within the Fairies 2022, the city of Falaise invites you to stroll around its Christmas Market and enjoy its many family activities: ice rink, carousel, concerts of the Harmony of the Pays de Falaise, carriage rides... In addition to experiencing a magical moment, find many exhibitors in the heart of the city who will offer you their wide range of original and artisanal products, for the pleasure of the eyes and the taste buds.
dates: Saturday, December 17, from 17 p.m. to 21 p.m., and Sunday, December 18, from 9 a.m. to 19 p.m.
Location: Place Belle-Croix in Falaise
Do not miss !
On Sunday December 18 from 18:15 p.m., a superb fireworks display from the grounds of the Château de la Fresnaye will close this magical weekend!
2. Château de la Fresnaye: 100% artistic
The craftsmen and artists of the Falaiz'Art association invite you to discover their creations on the occasion of their first Christmas market.
On site, find:
Date: Fridays and Saturdays from November 25 to December 23
Location: Chateau de la Fresnaye in Falaise
3. Bernières-d'Ailly: 100% local
The Producers of the Pays de Falaise invites you to their Christmas Market on Friday afternoon, December 9th. You will find the usual producers of your weekly market on Friday afternoon, as well as some additional exhibitors in order to properly prepare for the end of year celebrations. And while the little ones will enjoy the horse-drawn carriage rides, the older ones can warm up with a good glass of mulled wine!
Date: Friday, December 9, from 14 p.m. to 20 p.m.
Location: Ailly Farm in Bernières-d'Ailly
4. Potigny: 100% festive
On Sunday, December 11, it is in Potigny that we give you an appointment! Many activities and products will be offered to you throughout the day. And for the little ones (and adults), Santa Claus will also be there: the opportunity to meet him before he leaves by sleigh for the big round of gifts!
Date: Sunday, December 11, from 9 a.m. to 17 p.m.
Location: Potigny Leisure Center
5. The quince grocery store: 100% responsible (past date)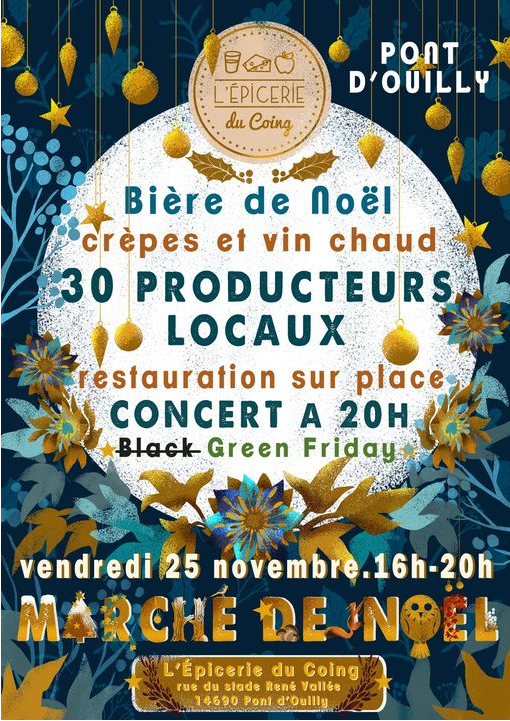 The Christmas Market of theEpicerie du Coing, a natural grocery store located in Pont-d'Ouilly in Swiss Normandy, will open this year the Christmas market season in Falaise – Suisse Normande. Voluntarily organized on the last Friday of November, this market will also be an opportunity to celebrate "Green Friday", a responsible alternative to "Black Friday". On the way to an eco-responsible Christmas!
And to prolong the festivities, a concert will be offered to you from 8 p.m.!
6. Morteaux-Couliboeuf: 100% artisanal (date passed)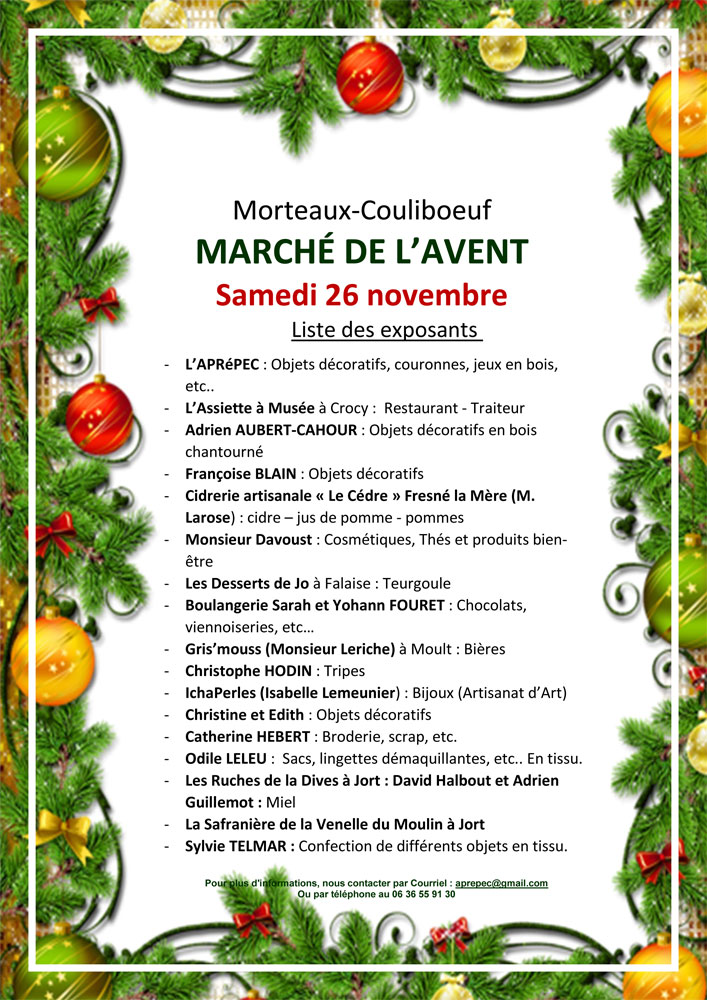 The APRéPEC, Association for the Preservation and Rehabilitation of Heritage, is organizing its second Advent Market on Saturday 26 November in Morteaux-Couliboeuf. Decoration, jewellery, cosmetics, local products: find many original, artisanal and local gift ideas among the fifteen artisans and producers present.
Date: Saturday, November 26, from 10 a.m. to 18 p.m.
Location: village hall of Morteaux-Couliboeuf
7. Soumont-Saint-Quentin: 100% participatory (past date)
This year, the town hall of Soumont-Saint-Quentin and the Familles Rurales association are mobilizing to rekindle the Christmas spirit in the village. From the beginning of November, more than fifty people from Soumont came together to work on the decoration of their commune. The Christmas Market on 26 and 27 November will be the highlight of this mobilization!
dates: Saturday November 26, from 14 p.m. to 18 p.m. and Sunday November 27, from 10 a.m. to 18 p.m.
Location: village hall of Soumont-Saint-Quentin
8. La Roche d'Oëtre: 100% terroir (date passed)
On Sunday November 27, the teams of Mountains of Normandy Tourism meet you on the natural site of the Roche d'Oëtre for a Christmas market dedicated to arts and crafts and local produce. More than 20 artisans and producers will be waiting for you inside the Tourist Office to present their products to you. Pretty make-up and a storytelling show will be offered to the children!
Date: Sunday, November 27, from 11 a.m. to 18 p.m.
Location: Roche d'Oëtre tourist information office