Once again this year, the Pays de Falaise Tourist Office and its loyal partners have concocted a rich program of outings and entertainment for the summer! Guided tours, strolls in the villages of the Falaise – Suisse Normande destination, theatrical walks or nature outings: there will be something for everyone!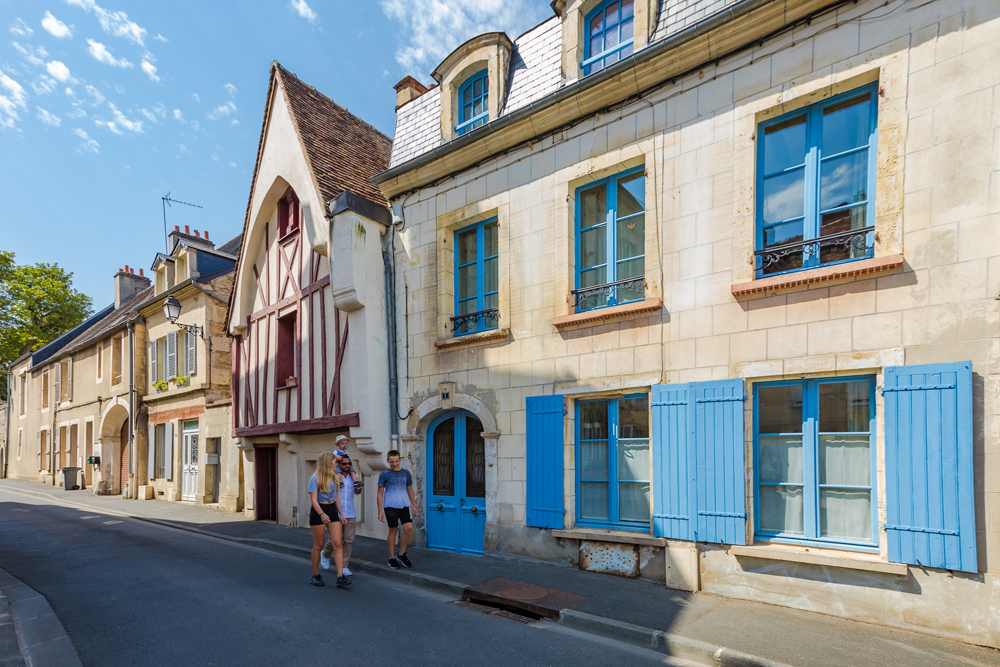 theatrical walks
with the company "behind the mask"
"The lessons of Molière"
Falaise - Friday August 19 and Saturday August 27
Departure from the Tourist Office – 20 p.m.
The company "Derrière le Masque" returns this year to Falaise with a brand new route through the city! On the program: new stops, new costumes and new performances. Specially designed for the year 2022 and as part of the 400th anniversary of Molière's birth, the company has prepared a theatrical walk for you with the theme "The lessons of Molière". Which plays will be chosen and in which venues will they be performed? Sign up to find out!
8€ per adult, 4€ per child from 12 to 17 years old, free for children under 12 years old
Duration: 2 hour
Reservation required (limited number of places): 02 31 90 17 26
with the lantern company
Follow the actors of the Compagnie de la Lanterne for a theatrical journey through the ages and the Pays de Falaise.
"The Walkabouts of Guibray"
Falaise - Wednesday, July 27
Departure from Place Reine Mathilde – 17 p.m.
In the courtyards of the inns, on the forecourt of the church, at the Château de la Fresnaye, brigand and spassadin comedians rub shoulders during the Guibray fair with merchants, tooth pullers, peddlers...
€5 per adult, free for children under 12 (not recommended for children under 10)
Duration: 2 hour
Reservation required (limited number of places): 02 31 90 17 26
"Walk in Ouilly-le-Tesson"
Ouilly-le-Tesson - Saturday, August 27
Year 1400. At the manor everything is rejoicing: Ernoul and Jeanne d'Ouilly celebrate the wedding of their daughter Marguerite with Guillaume d'Assy. A few centuries later, the Marquise Morell d'Aubigny d'Assy inaugurated the castle built by Nicolas Gondoin.
€4 per adult, free for children under 12 (not recommended for children under 10)
Duration: 2 hour
Reservation required (limited number of places): 02 31 90 17 26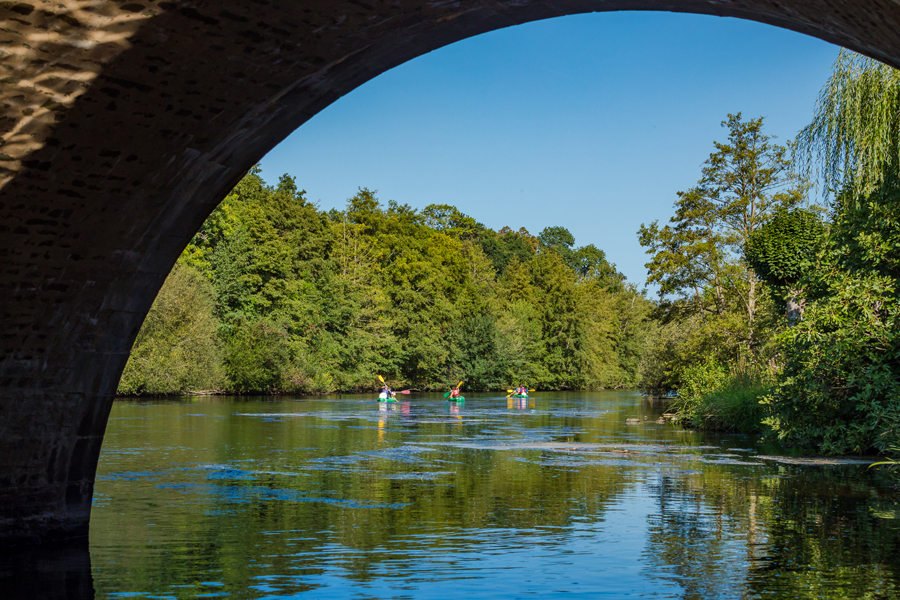 nature walks in pont-d'ouilly
An original discovery of the natural riches of Pont-d'Ouilly, on land or on water!
7€ per adult, 3€ per child from 6 to 17 years old (from 6 years old)
Reservation required (limited number of places): 02 31 90 17 26
walk
Mondays July 18, August 1 and 22
The start Leisure centre - 17h
Lovers of walking, nature, beautiful landscapes, take the time for a family walk in the heart of the Suisse Normande. A specialized activity leader passionate about the environment takes you to meet the fauna and flora of Pont-d'Ouilly and its surroundings. Discover living beings that you didn't suspect, go to meet their respective habitats, put a name to the plants you come across and above all experience a total change of scenery in the heart of a real green paradise! Adults and children alike, this fun and participatory walk will awaken all your senses, you won't notice the time passing!
Difficulty: medium – Distance: 5 kms (bring water and walking shoes)
ride on the water
Mondays July 11 and 25, and Monday August 8
The start Leisure centre - 17h
Embark at Pont-d'Ouilly in the late afternoon for a canoe descent! Take advantage of this time of day when the Orne is so peaceful and belongs only to you. A nature enthusiast will take you to meet the small aquatic animals and plants living in the Orne. Discover this wealth of flora and fauna found in the Pont-d'Ouilly sector, learn to recognize its living beings and understand their way of life. During this nature walk, also enjoy the pleasure of paddling on calm water in the heart of unspoiled nature. A family outing par excellence where everyone will find something for themselves!
Difficulty: easy – Distance: 3 kms (it is essential to know how to swim)
friday august 19: mesnil-villement celebrates 10 years of stones in light
Meet on Friday August 19 at Le Mesnil-Villement to celebrate the 10th anniversary of Pierres en Lumières. A rich and varied program awaits you!
nature walk
"The little water beasts" with the CPIE
Meet at the picnic area – At 16 p.m. and 17:15 p.m.
Discover the small creatures living in the water with an animator from the CPIE of the Norman Hills.
Free
By reservation: 02 33 62 34 65
musical aperitif
À KotA'venture – From 18:30 p.m.
In an enchanting and atypical setting, between the river and Finnish chalets. Snack bar and catering on site with take-out menus and aperitif trays.
Free
Information: 06 66 51 87 94
outdoor cinema
On the site of the old spinning mill – At 21:30 p.m.
Film "School truant" by Nicolas Vanier (2017). An ode to nature, but also a reflection on identity, roots, friendship. With François Cluzet, Eric Elmosnino, François Berléand…
In partnership with Lux and the Department of Calvados
Limited number of seats, provide seat
Free
visits
guided cliff tours
Falaise - From July 19 to August 9, Tuesdays
Departure from the Tourist Office – 10:30 a.m.
Every Tuesday, the Tourist Office invites you to discover the Great History of Falaise and to access sites usually closed to the public. 5 participants minimum.
€4 per person, free for children under 16
Difficulty: easy – Duration: 1h30
Info and reservations: 02 31 90 17 26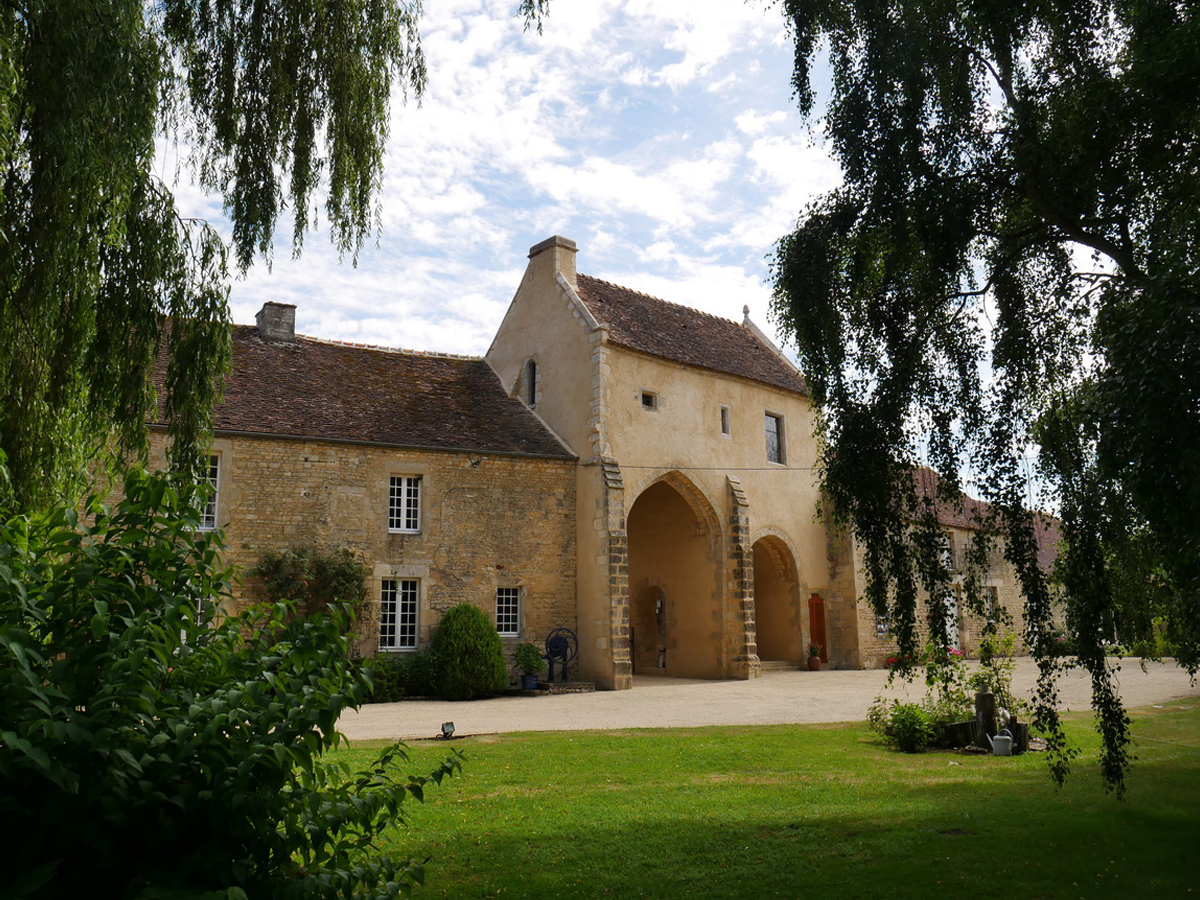 strolls
Discover our villages and meet their inhabitants thanks to our local guides who will take you on a visit full of authenticity.
Free
Difficulty: easy – Duration: about 3 hours (bring water and walking shoes)
Info and reservations: 02 31 90 17 26
stroll in villers-canivet
Tuesday July 19
Departure from the church car park – 14 p.m.
Located north of Falaise, the town of Villers-Canivet has a heritage testifying to a long human presence: the old Cistercian abbey, the Saint-Vigor church (partly from the XNUMXth century and listed as a Historic Monument), the chapel of Torp and its hamlet which would have been established in the Viking era, the presbytery, the town hall which is housed in a building remarkable since the middle of the XNUMXth century. And that's not all ! The village also bears traces of the Neolithic era with the Menhir de la Grurie. This stroll will allow you to discover some of these places, but which ones?
stroll in saint-germain-langot
Tuesday July 26
Departure from the town hall car park – 14 p.m.
Located at the entrance of the Suisse Normande, the commune of Saint-Germain-Langot is made up of small hamlets scattered among farmland, nurseries and woods. Despite its small size, Saint-Germain-Langot is a lively town which has preserved many traces of the past: old feudal mound, remains of an abbey, church, mill... During this stroll, we invite you to discover a part of these curiosities which today contribute to the identity of the village.
stroll at the hoguette
Tuesday August 2
Departure hall – 14 p.m.
Take advantage of this stroll to discover the hidden treasures of the charming village of La Hoguette: its church and its fresco painted by a renowned artist, its washhouse restored by volunteers, its private castle and the exhibition of statues by its Hogueton artists... At the end of this beautiful walk rich in discoveries, the participants will be invited to share a glass of friendship.
stroll in isles-bardel
Tuesday August 9
Departure town hall – 14 p.m.
Nestled in the hollow of the valleys of the Suisse Normande, the Isles-Bardel brings together a great diversity of typical landscapes: bocage hedgerows, orchards, forests, moors, schist cliffs or even wet meadows. This natural environment, conducive to hiking, allows the discovery of a very rich fauna and flora. The parish church of Saint-Ouen, prior to the XNUMXth century, has an architecture that has been altered several times. Its chestnut vault, the XNUMXth century altarpiece, the baptismal font and the ancient burials make it an unmissable place. This stroll promises to be rich in fauna, flora and also cultural discoveries!